10 different types of Indian paintings
India is a land of versatile artforms, you name it and we have it. Spread over various states, cultures, and centuries of history, we bring you 10 different types of Indian paintings you should know about. Not only do these paintings represent the rich and diverse culture of India, but they also exude talent, artistry, and the purest form of unique art that has been preserved by these classic paintings.
1. Pichwai Paintings
Mostly done exquisitely on clothes, Pichwai painting are regarded as religious paintings that are hung behind Shrinath Ji's idol. As the name suggests, pich means back and wai means hanging. Originated in Rajasthan's Nathdwara, these paintings are an ode to Lord Krishna's form and many of his leelas are depicted in famous picchwai paintings.
2. Gond Paintings
Coming from one of the largest tribal groups in India, Gond, Gond painting is a playful take on lines and colors which is skilfully painted by adivasis from different parts of India like Madhya Pradesh, Maharashtra, Chattisgarh, Andhra Pradesh, etc. Gond art is influenced by folktales and Gond mythology. Originally painted on walls and floors, this art has found its way to all kinds of mediums.
3. Kalighat Paintings
Kalighat painting flourished near the banks of Kalighat Kali Temple in 19th century Calcutta as religious paintings to be taken away as souvenirs by the devotees who visited the temple. An extension of pattachitras, these paintings stand out because of their use of bold colors and a plain background. Kalighat art has religious themes which also evolved into contemporary day-to-day themes.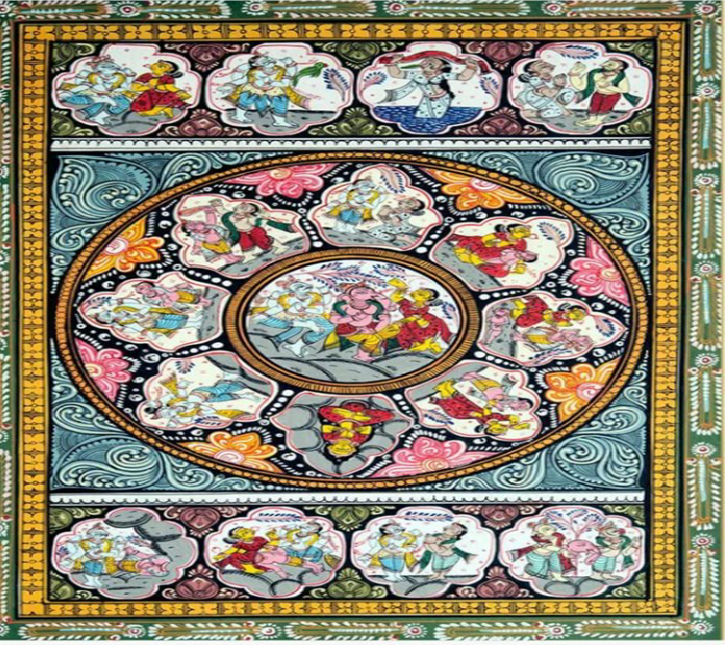 4. Pattachitra Paintings
Perhaps one of the most time intensive and elaborate paintings, pattachitras literally mean paintings on cloths. Originated in Odisha and West Bengal, pattachitra art was used for various customs related to Lord Jagannath and till date plays a very important role in temples, otherwise used as souvenirs for temple visitors. Pattachitra painting have a different use in West Bengal as opposed to Odisha, as Bengal pattachitra was used for storytelling purposes.
5. Madhubani Paintings
A brimming canvas and an explosion of colors is what defines Madhubani paintings the best! From the village of Madhubani in Bihar, these paintings are also known as Mithila art as it finds its roots to the wedding of Sita in Mithila. Mostly religious in themes, these paintings were chiefly done by women and each and every motif has a relevant meaning behind its portrayal.
6. Classical Indian Art Paintings
Classical Indian Art paintings comprise different schools of paintings like Mughal, Rajput, Pahari, and Deccan. While a lot of miniature paintings have emerged out of them, they all have varied themes and styles majorly influenced by the Mughal school of painting. These famous classical Indian arts have themes of the day-to-day activities performed by emperors, special occasions like marriages, epics like Ramayana and Mahabharata, and godly depictions of Radha and Krishna.
7. Tanjore Paintings
 Tanjore or Thanjavur paintings can be considered as one of the most iconic painting styles for their use of precious stones, gold foils, glass beads and extensive gesso work.. These famous Tanjore paintings originated in 1600 AD Thanjavur in Tamil Nadu and celebrate Hindu gods and goddesses.
8. Kalamkari Paintings
 One of the varieties of pattachitra paintings, Kalamkari art is produced on cotton textiles through block print and hand painting. The word translates into kalam, meaning pen and kari, meaning craftsmanship which finds its roots in Andhra Pradesh and has two distinctive styles, namely, Machilipatnam and Srikalahasti. Famous kalamkari art focuses on motifs related to nature and epics like Ramayana and Mahabharat.
9. Warli
From one of the biggest tribes of Maharashtra comes a beautiful art known as the Warli art. Warli derives from the word 'Warla' meaning a piece of land. Traditionally done on walls, its known for its peculiar use of white color on a brick red background with geometric patterns like triangle, square, and circle. The consistent nature of this art depicts themes of farming, hunting, fishing, nature, trees, and animals.
10. Phad Paintings
Adding to the list of religious paintings is a religious scroll painting from Rajasthan – Phad painting which literally means painting done on a long piece of cloth. Famous phad art includes narratives of Rajasthani local deities, Pabuji and Devnarayan which are 15 to 30 feet long and act as movable temples for the devotees.