Decorate Your Living Room With These Trendy Items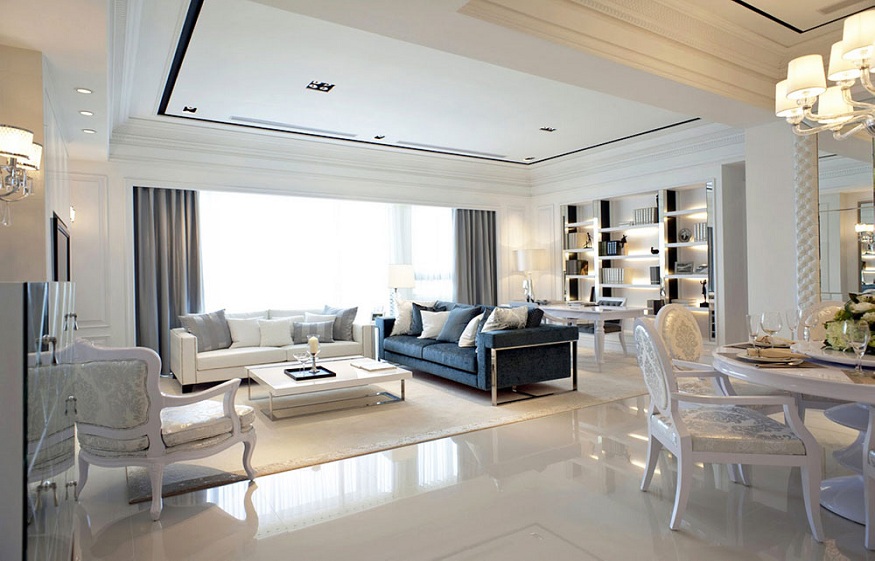 The living room design creates the first impression on your guests' minds since this is the first room they visit. This makes creating a stunning living room design very essential. There are various ways you can decorate the space. In case you do not want to make significant changes to the living room to make it appealing, you can just consider adding a few elements. These elements will add more visual appeal to your living room decoration and make it more functional. Here are they:
01 of 06 Plantation shutters
Your windows will appear incomplete without window treatments. The most commonly used option is curtains. However, they could be a problem when you have a small living room. They can make your room interiors appear smaller. Instead, you should go for plantation shutters. These shutters have gained immense popularity in the last few years. People with modern and minimalist home designs love this option for their windows. Not only does it give the windows an elegant and clean look, but it also can completely block out sunlight and provide privacy when required. You can get them in many different colours as well.
02 of 06 Moroccan pouf
You must always create a relaxing seating space in your living room. This will make your guests feel more invited. One of the common problems people face while seated on the sofa is that there is no space to relax the legs. This problem can easily be solved by using Moroccan poufs. They are the perfect addition to any living space. You just have to leave them in front of the sofa. In some cases, they can be used for sitting when sufficient space is not available on the sofa.
People love these because of their versatile appearance. You can use them in all types of home designs. Moreover, they are available in lots of colours, patterns, and sizes. You can choose one that complements the look of your living room design.
03 of 06 A floor lamp
You must always design a well-lit living room. If you feel that any one area of the living room is not well-lit, you should consider adding a lighting fixture for that space. An easy solution for this would be a floor lamp. They are great for illuminating the interior design of your home and ensuring that you can perform any task. People can use it to cover empty awkward spaces in the living room. Moreover, you can get them in many sizes, colours, and designs. Look for an option that matches your living room design. Pay attention to the lampshade as well since it hugely influences the overall look of the lamp.
04 of 06 An accent mirror
When you are not sure about what you should add to your living room design, you can consider choosing a mirror. A mirror is a great addition to all types of living room designs. You can get beautiful ornate mirrors that can be hung from the walls or kept on the mantle to create an appealing look. However, a mirror's benefits go much further than elevating the aesthetic appeal. It is a great addition to small living rooms since the reflection in a mirror can create the illusion of a larger space. Moreover, mirrors reflect light. If you can carefully position your mirror in front of a light source, you can keep your entire living room design well-lit. Depending on your preferences, you can either hang one large mirror from the wall or opt for multiple small ones of different shapes and sizes to create a beautiful wall gallery.
05 of 06 Hang pictures
When you are out of ideas, keep things simple and opt for artwork. You can either create artwork or buy it online. Buying artwork does not mean you will have to spend a fortune. There are replicas available of famous paintings that you can hang. Creating artwork is a brilliant idea if you want to give the living room a personal touch. You can even hire a local artist to create artwork for your living room. Just make sure that the artwork complements your living room decoration and does not appear overwhelming. Too many colours and patterns might be overwhelming for small living rooms. Also, make sure you get your artwork framed. People looking for a dramatic effect can hang many pieces in a group on the wall.
06 of 06 A rug
You must never ignore the importance of a rug in your interior design for your home. It is one of the most crucial elements of a living room. You can make your living room design appear more comfortable and inviting simply by laying a rug in your seating arrangement. You can get rugs in many patterns, colours, shapes, and sizes. Make sure you choose one that matches your living room look. A Persian rug will be great for your traditional living room designs. For modern setups, look for minimalist rugs featuring neutral-colours. Just be careful about the material. Some require more maintenance compared to others. If you cannot keep up the maintenance, your rug will ruin fast. Also, always buy pet-friendly rugs if you have pets at your home.