What is Required for an ADA-compliant Bathroom?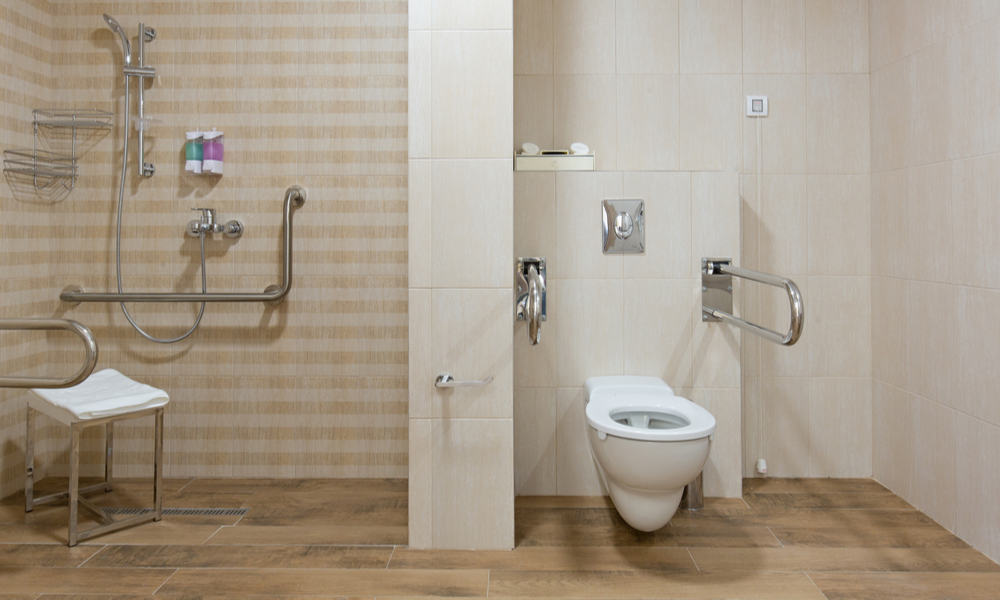 When it comes to ADA bathroom requirements, several specifics must be followed. Some of these include the size of the shower or bathtub, the height of grab bars and toilet seats, the placement of light switches and door locks, and more. Here's a list of ADA bathroom requirements for further details:
ADA Bathroom Requirements
Grab bars must be placed on the wall behind the toilet and next to the tub or shower. These bars must be sturdy, continuous, and located 27-36 inches off the floor. The diameter of a grab bar is required to be 1 ¼ – 2 inches, with a projection of 1 ½ inches.
The light switch that controls the bathroom light must be on an adjacent wall or directly beside the door, and light switches located both in front of and behind the door are not permitted under ADA guidelines.
ADA bathroom requirements state that all doors should open out. Bathroom doors need to have lever-style handles (or knobs) that can be opened with a force of 5 pounds or less. Door locks that are not positioned on the doorknob itself must be located at least 40 inches above the floor, and locks built into a raised threshold cannot be used.
ADA bathroom requirements state that all bathroom fixtures must have toilet seats installed at 17 to 19 inches above the floor, measured from the middle of the seat.
The size of the shower or tub must be at least 30 by 60 inches to fit a standard-sized roll-in shower curtain liner. There are also specifications for door swing and minimum clear floor space that apply here.
The benefits of adhering to ADA compliance
There are different benefits of complying; they include:
Have peace of mind knowing you are compliant with the ADA guidelines.
Ensure legal protection from the violations and lawsuits that may arise if non-compliant.
Follows federal law and can provide a quick and straightforward compliance verification process for those looking to build new facilities or modify existing ones at any stage of development.
Comply with the ADA guidelines to retain local, state, and federal government funding.
Maintain readily available access to public programs, services, or activities your business or building owner offers.
Make potential clients and customers feel more welcomed into your facility, reducing attrition rates.
Staying a complaint can reduce legal liability for non-compliance.
Save money in the long term by avoiding lawsuits, maintaining federal funding, and retaining customers/clients through more accessible designs, so they use your services more frequently.
Provides equal opportunities to people with disabilities, increasing participation rates of public programs offered by your business or building owner.
Best practices for new construction and building modifications.
Improves the overall appearance and image of your facility.
Conclusion
Facility managers should always keep in mind that ADA bathroom requirements are only the bare minimum for accessible bathrooms. The purpose of the guidelines is to ensure compliance and improve upon accessibility and make daily life easier for people with disabilities.